Product Description
PVC
Corrugated and Composite Roof
Tile Production Line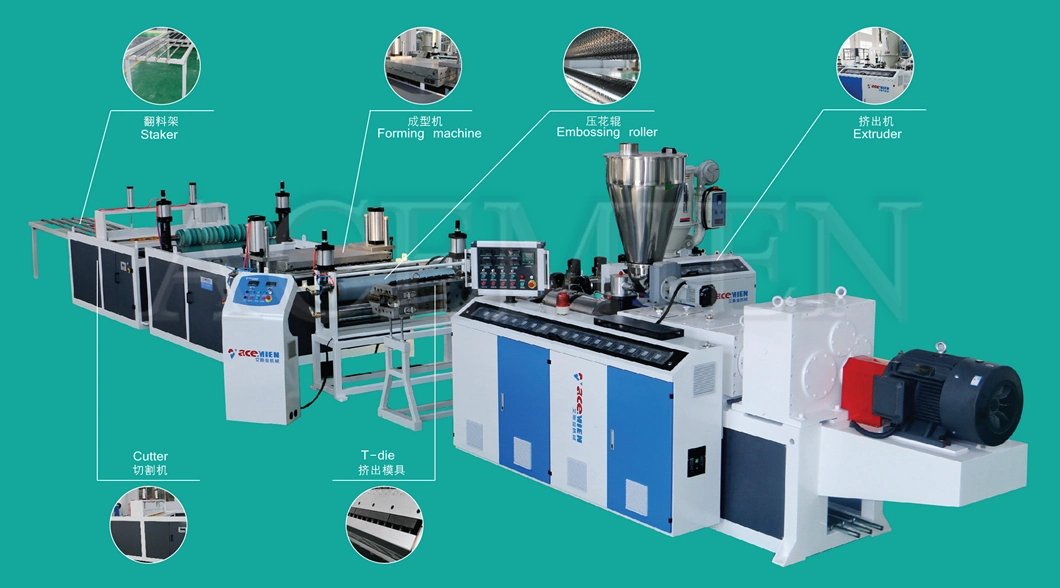 PVC Corrugated and Composite Roof Tile
Extruder
is extruded with mold and surface is treated with hot-stamping machine directly in line or water transferring after extrusion, which makes a mirror-like surface with strong feeling of smooth and shining marble.
Application and Characteristic:
1.This line is mainly used to produce PVC corrugated tile which width is 1130mm,thickness is 1.5-3mm. (It can be customized)
2. PVC, ASA, PMMA compound roof tile production line consists of conical twin screw extruder SJZ80/156, co-extruder, extruding tools, forming machine for main tile and ridge tiles, haul-off, cutter and stacker.
3. Supply formula guide and staple raw material purchase.
4. Professional analyzing and design by considering production cost and tiles's performance.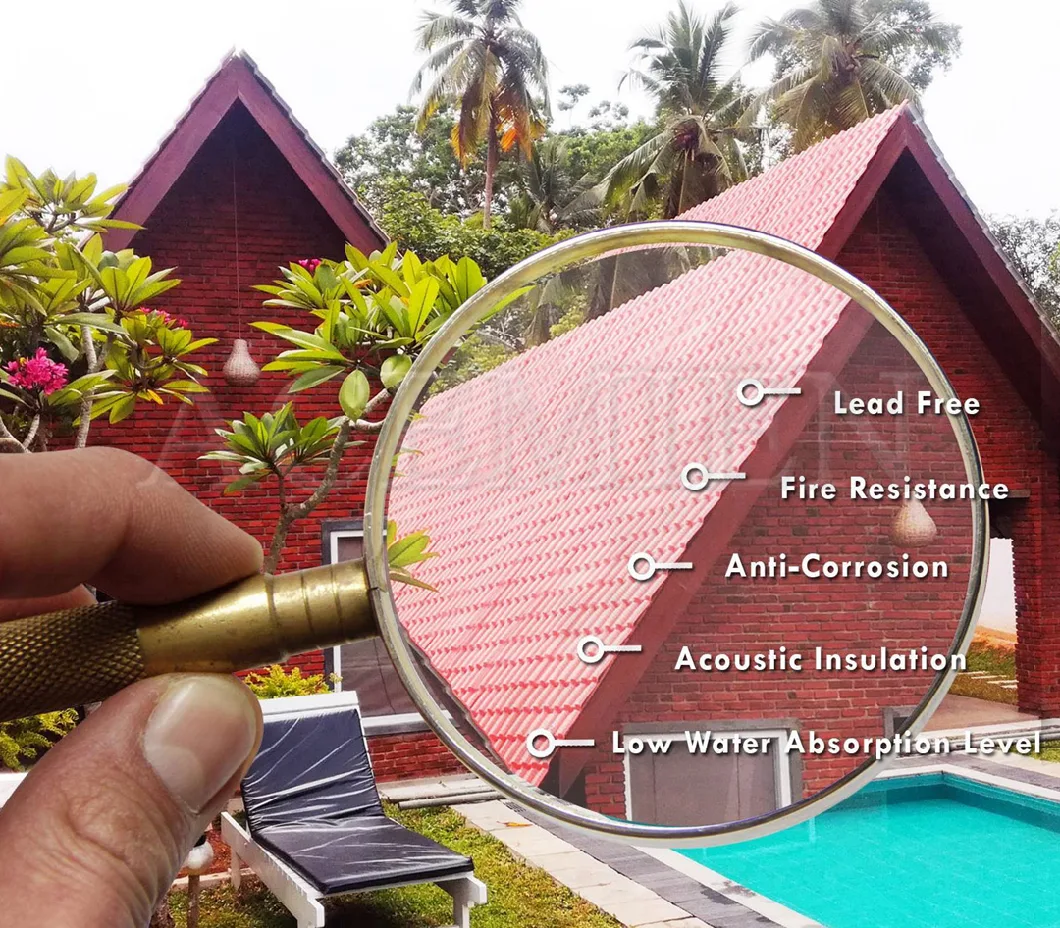 PVC+ASA/PMMP Coating Synthetic Resin Roofing Tile Advantages:
1.Save cost for your investment ,using life more than 20years
2. Excellent anti-load performance
3. Lightweight easy transportation
4. Excellent waterproofing performance ,water resistance when heavy rains and the rainy season
5. Fire resistance, not spontaneous combustion and insulation
6. Anti corrosion: resistance to acid and alkali
7. Impact resistance and low temperature resistance
8. Good sound and heat insulation
9. Small thermal expansivity
10. Environmental protection and energy conservation
11. Easy to install and packing container and car
12. Lasting color more than 15 years
13. Green environment-friendly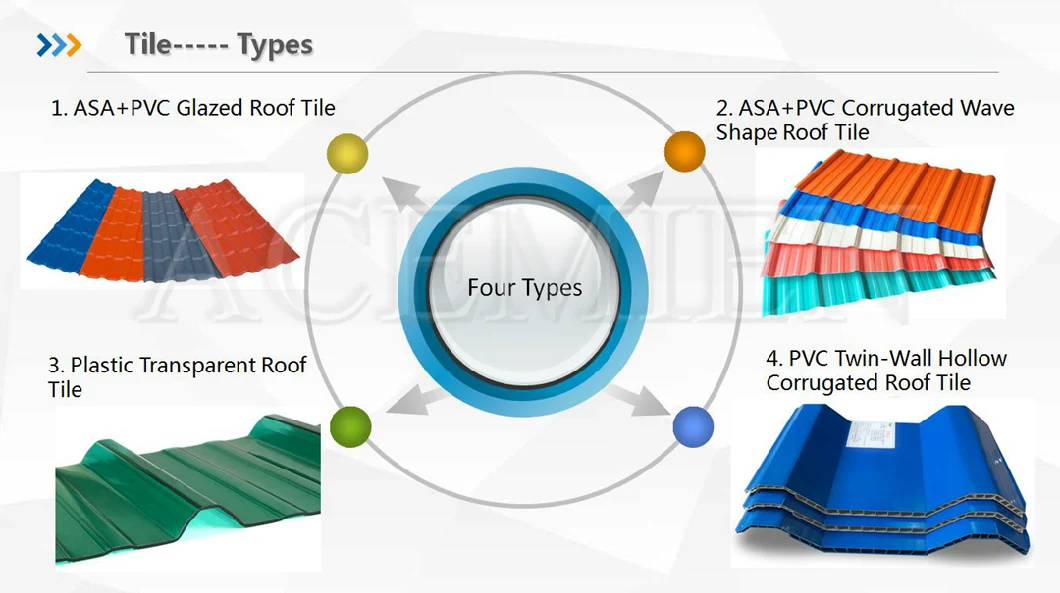 Machine list
No.

Machine

Qty.

1

Screw loader for SJZ 80/156 extruder

1set

Main tile extrusion line





Ridge tile forming

2

SJZ 80/156 conical twin-screw extruder(PVC)

1set

3

Vacuum loader and drying hopper

1set

4

SJ50/30 single screw extruder(ASA)

1set

5

Extrusion mould and distributor

1set

6

Calibration mould and trimming device

1set

7

Haul off unit

1set

8

Cutter

1set

9

Stacker

1set

10

Ridge tile Oven

1set

11

Ridge tile Forming machine

1set

12

Screw loader for SRL-Z300/600 Mixer

1set

Auxiliary equipment

13

SRL-Z300/600 Mixer unit

1set

14

PC500 Crusher

1set

15

MF550

Pulverizer

1set

16

Ridge roof forming machine(Optional)


1. Flat sheet haul-off unit
2. Oven
3. Ridge tile forming unit
4. Ridge tile mold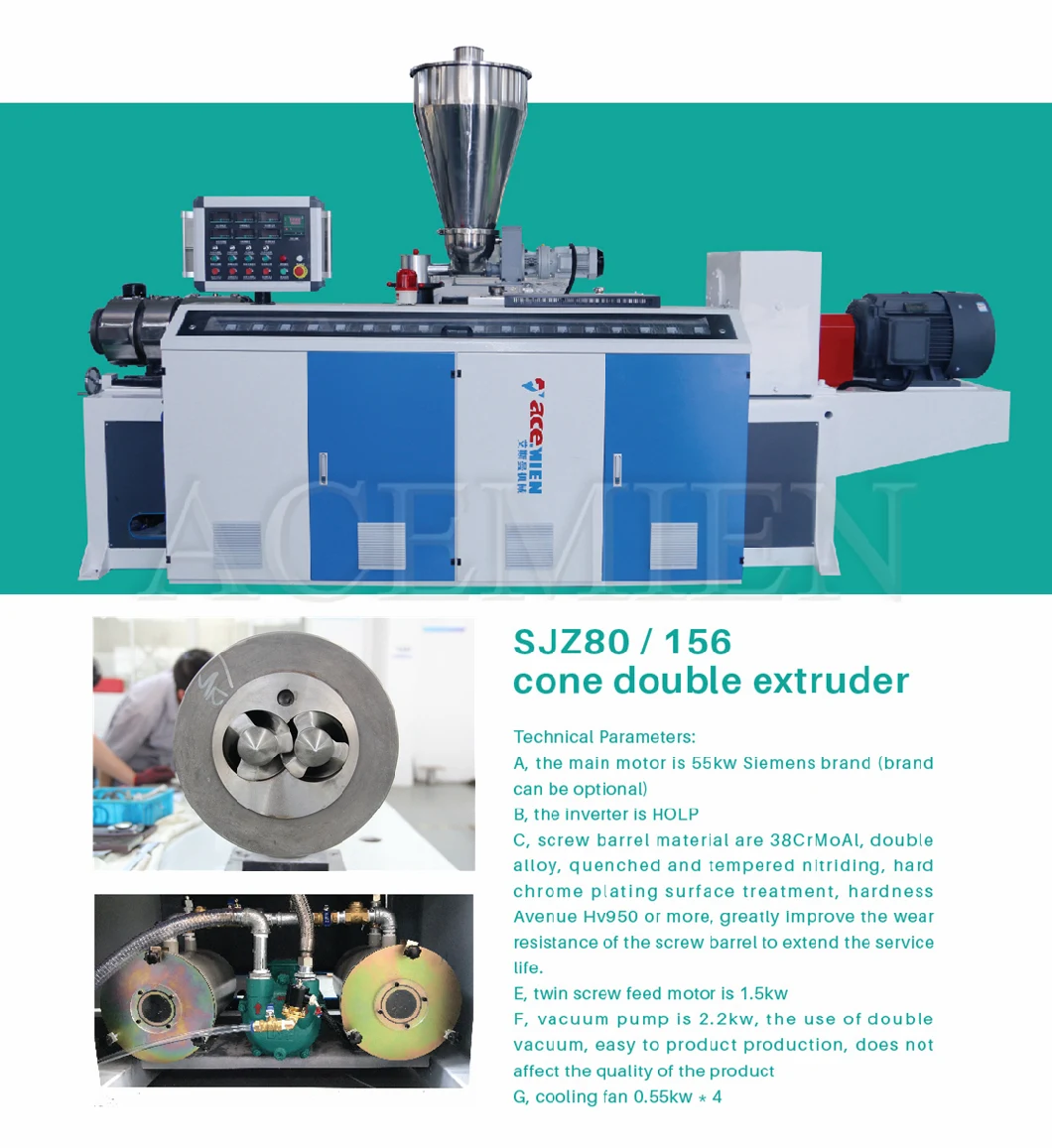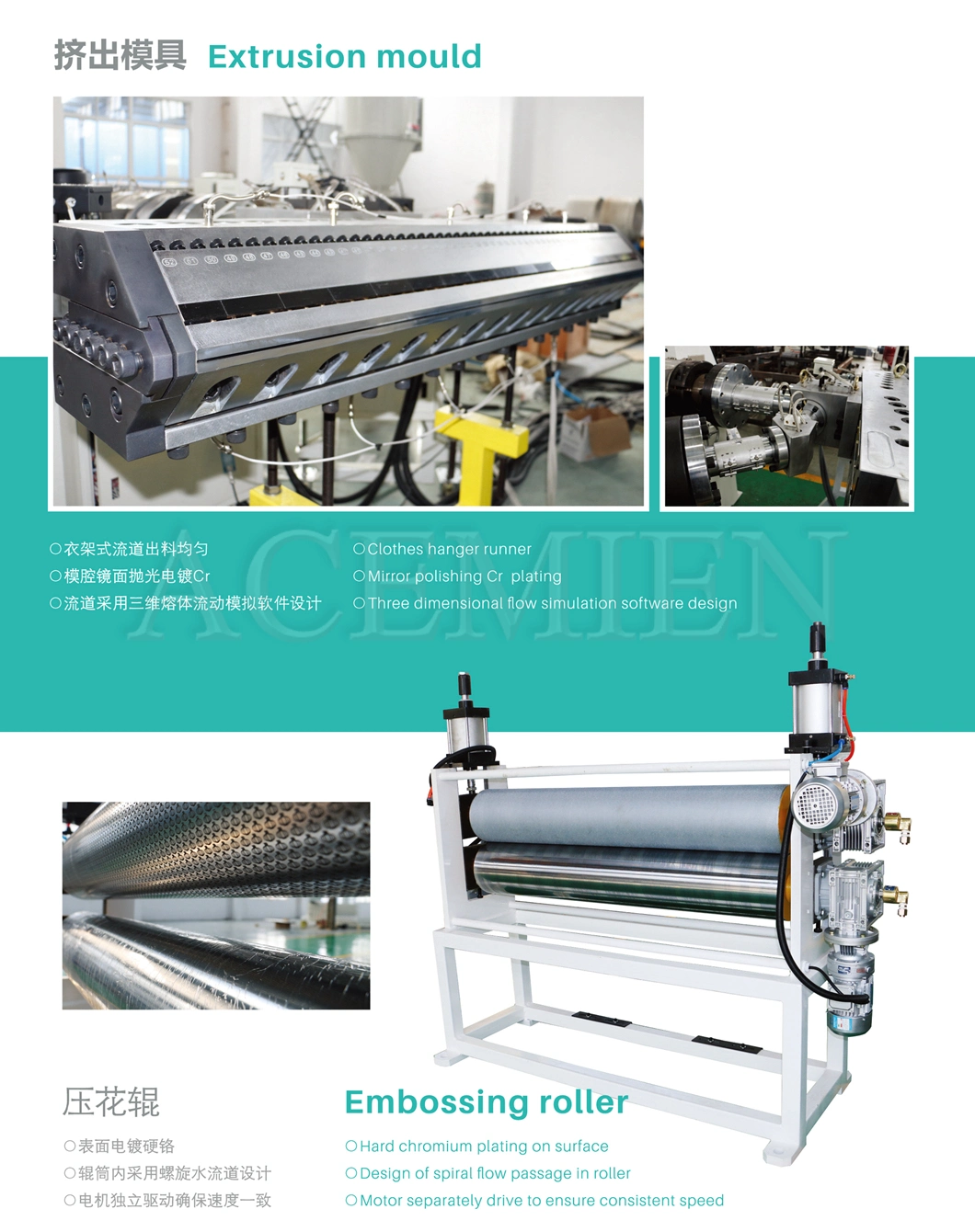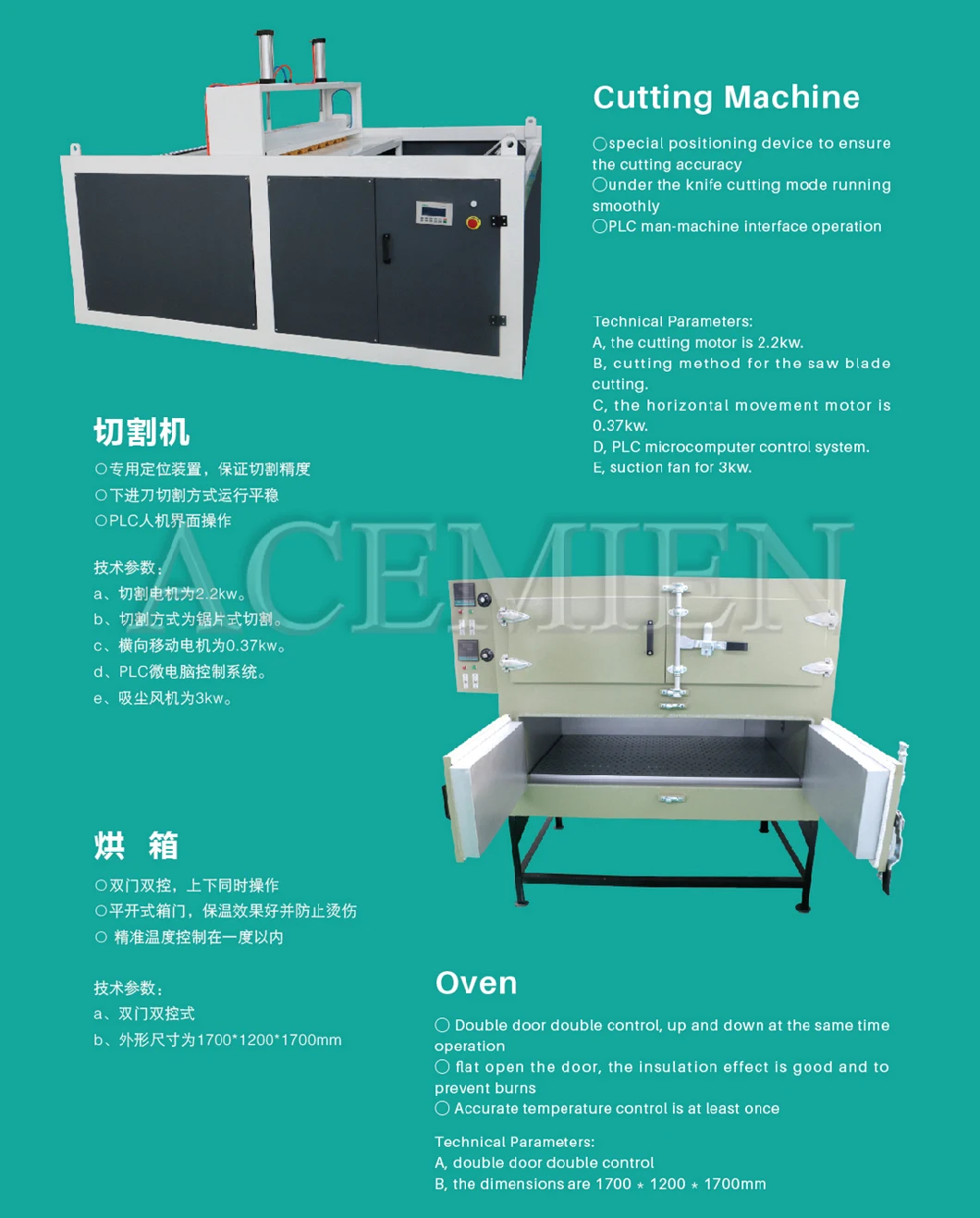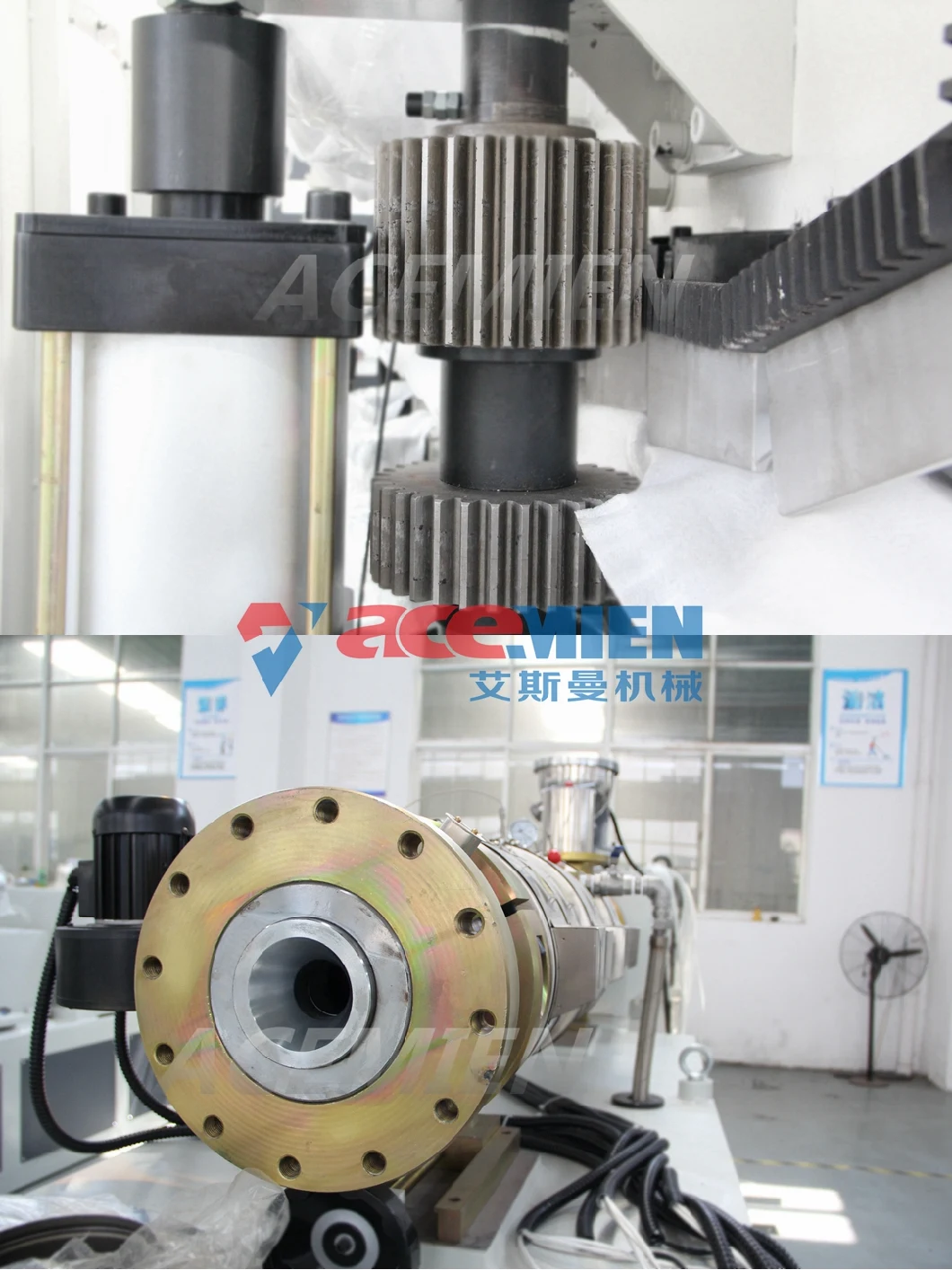 Raw material
Raw material & formulation

PVC powder, CaCO3, CPE, PE-WAX, Stearic acid , Compound stabilizer ,ACR, paraffin




ASA granule

Description final product & Output capacity

Two layer PVC+ASA Co-extrusion Corrugated tile(trapezoid);




Width:1130mm,Thickness: 1.5~3mm;




Output:300-400kg/h(Depending on CaCO3 proportion)




For 2.5mm thickness, Capacity about 2300 Sqr/day
Work condition (provide by customer)
Warehouse/Workshop

Dimension (M*M*M): 25(Length)×5(width) ×3.5 (Height)




Crane: Machine positioning

Temperature & Humidity

≤40

ºC

, ≤95%

Power supply

3-phase, 380 V, 50 Hz(or customized)

Wire/cables:

Wires/cables from power supply to control cabinet of this production line;

Cooling Water hose/pipe

Water supply to machines and pools

Lubrication oil:

Sinopec, Exxon mobile

Compressor

7.5kw(0.6-0.8Mpa)
Energy consumption
Installation power

Total 270KW,Actual consumption about 70%




Suggested 200KVA transformer




Needing at least 150KVA transformer

Cooling Water

≤20

ºC

, ≥0.3Mpa,

~

5-6tons/hr

Compressed air

0.3m3/min,

>

0.6Mpa

Manpower

3 Persons/shift(24 hours need 2-3 shifts)
Acemien Service
1. Installation, debug
After equipment reached the workshop of customer, place the equipment according to plane layout we offered. We will arrange seasoned technician for equipment installation, debug and test production at the same time make the equipment reach the rated producing capacity of the line. The buyer need to supply the round tickets and accommodation of our engineer, and the salary.

2. Training
Our company offer technology training to customer. The content of training is structure and maintenance of equipment, control and operation of equipment. Seasoned technician will guide and establish training outline. After training, the technician of buyer could master the operation and maintenance, could adjust the process and treat different failures.

3. Quality guarantee
We promise that our goods are all new and not used. They're made of suitable material, adopt new design. The quality, specification and function all meet the demand of contract. We promise that the products of this line could storage for one year without adding any aseptic.

4. After sales
After checking, we offer 12 months as quality guarantee, free offer main parts and offer other parts at the lowest price. In quality guarantee, the technician of buyers should operate and maintain the equipment according to seller's demand, debug some failures. If you could not solve the problems, we will guide you by phone; if the problems are still can not solve, we will arrange technician to your factory solving the problems. The cost of technician arrangement you could see the cost treatment method of technician.

After quality guarantee, we offer technology support and after sales service. Offer wearing parts and other spare parts at favorable price; after quality guarantee, the technician of buyers should operate and maintain the equipment according to seller's demand, debug some failures. If you could not solve the problems, we will guide you by phone; if the problems are still can not solve, we will arrange technician to your factory solving the problems.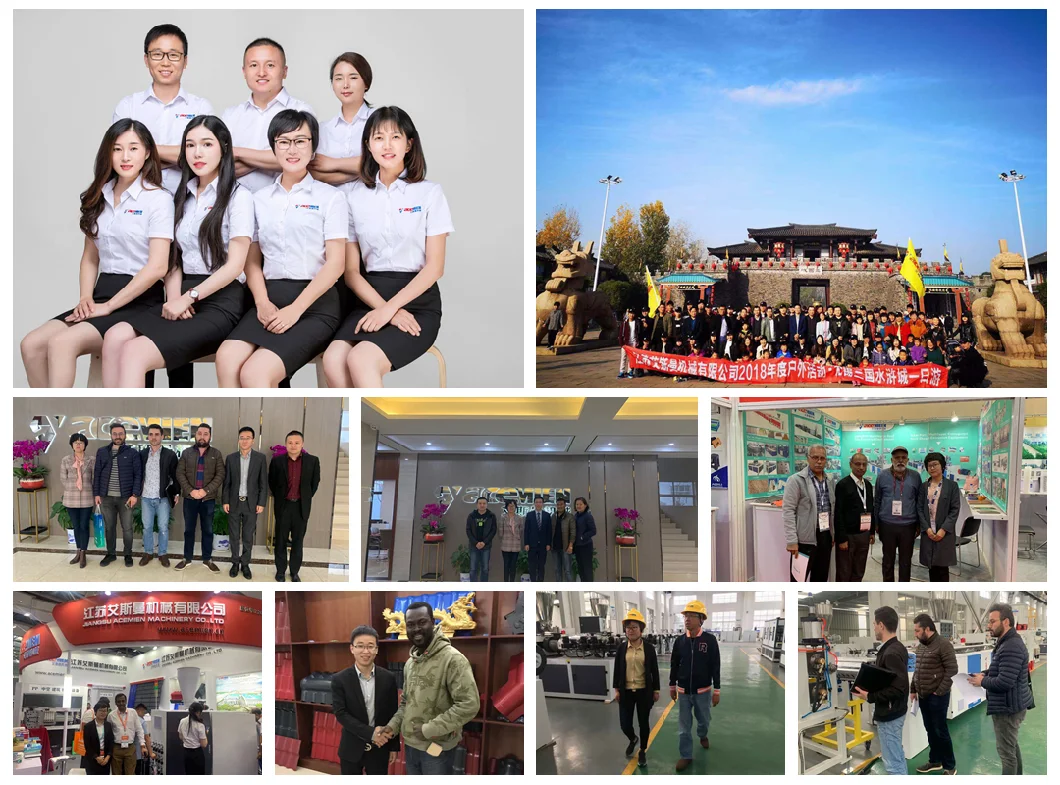 FAQ
Q1: Do you have reference project?
A1: We have reference project in most countries, If we get the permission of the customer who has brought the machines from us ,we can tell you their contact information, you can go to visit their factory.
And you are always welcome to come to visit our company, and see the machine running in our factory, we can pick you up from the station near our city.
Contact our sales people you can get video of our reference running machine

Q2: Do you provide customized service?
A2: We can design the machines according your requirements(material ,power, product type, machine color and so on),at the same time we will give you our professional suggestion, as you know, we have been in this industry for many years.

Q3: What's your guarantee or the warranty of the quality if we buy your machines?
A3: We offer you high quality machines with 1 year guarantee and supply life-long technical support.

Q4: How long time for installation?
A4: According to your machines order, we will send one or two engineers to your plant, it will take about 10 days to 25 days.